Our Services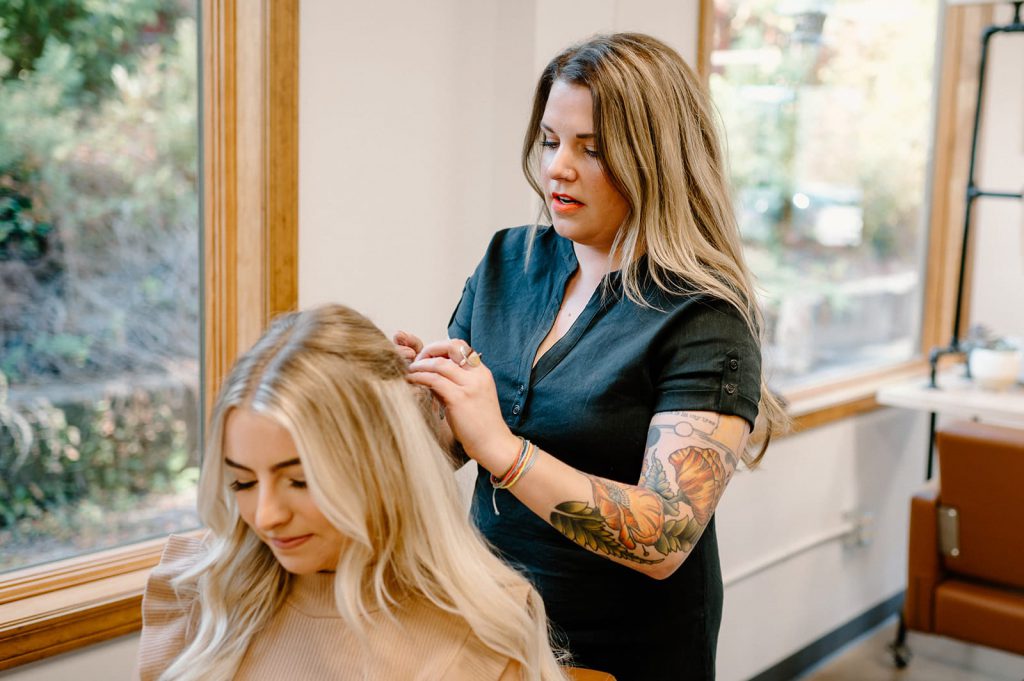 We fully believe that beauty comes from within – but why not spread that joy and positivity outside as well!? We are dedicated to providing a full line of services so that you can own your own distinct beauty in a way that makes you feel confident.
Descriptions and pricing for all services can be found below. Pricing is determined by each client's existing hair and desired outcome. Shaping and styling is included in all cut and color packages.
+ Extensions
+ Color Packages
+ Cuts
+ Facial Services
+ Event Styling
+ Policies
Extensions
We offer SLJ Method extensions. These are hand-tied extensions where your stylist will attach beads onto a row of natural hair. These extensions are perfect for those wishing for more volume and length, while looking natural and not putting too much tension on the existing hair or scalp. Consultations are required.
Color Packages
We offer a variety of color packages, ensuring you leave with the fresh look you came in hoping for.
Custom Color Package
Our custom color service comes with a proper consultation, a gloss, and our SISU signature style — $175+
One Color Package
All over one color includes a root touch up with glossing treatment and our SISU signature style — $90+
---
Foil Services
Full foil — $160+
Partial foil — $100+
Face frame foil — $75+
All foil services include our SISU signature style
Corrective Color
A consultation is required for a corrective color.
Cuts
Custom classic hair cut and our SISU
signature style — $50+
Clipper Cut — $35+
Facial Services
Brow Shaping — $15+
Brow Tint — $15+
Lip wax — $10+
Makeup Lesson — $125+
Full Face makeup application — $100+ (optional airbrush)
Custom makeup application — $75+
Event Styling
SISU Signature blow out — $45+
Styled with pins — $80+
Styled without pins — $65+
Contact Us
Let's chat! Let us know of any questions you may have. We look forward to talking with you.
Policies
Cancellation Policy
We understand! Life is busy + things happen! In order to continue to provide the best scheduling options for our clients, we require 48 hours notice should you need to cancel and/or reschedule with us. In the event that you need to cancel within the 48 hour time period, a 50% of services fee will be charged and needs to be paid before rescheduling.
Running Late
Please give us a call if you are running late and we will do our very best to accommodate you! However, our late policy is 15 minutes. After that, we may no longer be able to accept you for your appointment.
Service Adjustment and Return Policy
It is our #1 priority to make sure our clients are 100% satisfied. We strive to offer our guests the highest level of satisfaction. We understand sometimes your hair needs to be tweaked after your appointment. Please let us know within 7 days of your service if you need any touch-ups, and we are happy to tweak it at no additional cost to you. Should you make a retail purchase that you are unhappy with, please return it within 30 days for a full refund.